Royal Enfield: Models You Can Get On Rent In Delhi
Posted by Admin on April, 22, 2019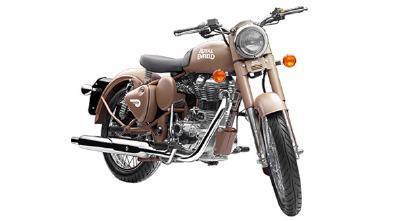 Riding across the capital city on a Royal Enfield is the dream of many, especially those who've come to the city on tour. Getting a Royal Enfield on hire in Delhi is now made simpler with a number of travel agents offering all models and makes of the much-loved 'bullet'. Even those living in Delhi love to take a bullet on a drive across the city and tick it off their bucket list. If you are also one of those people who love bullet but would rather rent it than invest lakhs in buying one, the Royal Enfield motorcycle rental service is something you would love to take in the city. While the classic Royal Enfield standard bullet is a favorite of many, there are many other models and types of bullets that you can avail as per your desires and requirements. Here are the top models of Royal Enfield on hire in Delhi.

Royal Enfield Classic
The Royal Enfield Classic is literally a 'classic'. This is the most popular bullets running on Delhi roads. This bike is powered by a 346cc, single cylinder engine, this bike is an amazing bike that is most loved even for rental purposes. One can easily find the top Royal Enfield rental service provider in Delhi offering the classic bullet on rent.

Royal Enfield Electra
Coming with a 4 stroke, twin spark, single cylinder, the Royal Enfield Electra is yet another of the bullet category bikes that has been a lot in popularity. This is a very fuel efficient and high-performance bike that is great for rent in Delhi. One can easily go around the city at a very low price as it offers a mileage of 40 kilometers per liter.

Royal Enfield Himalayan
The Himalayan is the most talked-about and one of the most expensive Royal Enfield bikes in the bullet series. As the name suggests, this bike is for those who love to take their bullets on the mountains, especially the Himalayas. Coming at a price of around 1.6 lakhs to 1.8 lakhs, you can easily find the great Himalayan at a cost-effective price for rent in Delhi.

Royal Enfield Thunder Bird
Royal Enfield Thunder Bird is one of the most favorites of people who like to take this bike on a tour of the capital city. It has forward slung foot pegs, and a taller and wider handlebar to allow easy and relaxed riding posture of the rider. Powered by a 346 CC engine, this bike is yet another one that is loved by everyone. For those planning to go a Delhi biking spree, a thunder bird is definitely the most comfortable bullet for long time riding.

Apart from the four discussed above, one can also find Royal Enfield Standard and Royal Enfield Machismo in both 350 CC and 500 CC for rent in Delhi. These bikes one of the most asked-about by people who want to hop around Delhi or even its nearby locations for a long bike ride and enjoy the beauty that these bikes let them experience.
This entry was posted on April, 22, 2019 at 15 : 49 pm and is filed under Royal Enfield Rental. You can follow any responses to this entry through the RSS 2.0 feed. You can leave a response from your own site.